---
Welcome!

Thank you for visiting my resume reel website. Here you will learn a little bit more about me - my experience, projects I have worked on and get to read recommendations from past co-workers and employers.
The below are samples of video projects I have worked on over the last few years and includes examples of my; graphics and animation work, video editing, script writing, pre and post production skills and live event/ webcast work. For each of the below videos I was the producer and editor responsible for the writing of the scripts in cooperation with the client/ subject matter expert, setting lighting, operating the camera, recording the audio, editing the final product and creating the graphics.

I have categorized the various projects based on the company I was working for to help give you a better understanding of what my job responsibilities were at each organization. For a full description of job responsibilities at each organization please visit the resume tab located above.

If you would like to set up an interview or discuss these projects further please feel free to email me at: bklehmbeck@verizon.net, or give me a call at: 571-512-2960.
​
​Enjoy!
---
The​ ​Motley Fool
Senior Manager of Video Production
Responsibilities:

As the Senior Manager of Video Production I worked closely with other team members to conceptualize, produce, shoot, edit, and deliver video assets with high visual impact for the purposes of marketing and promotional use in an effort to further the Motley Fool brand. My responsibilities included; seeing all productions through from beginning to end while working with copy writers, legal, the production/ post production team and finally the distribution team to ensure each step of the process ran smoothly and deadlines were met. Duties included: hiring of staff, daily management of team members, project development, organizing various aspects of a production, script writing/ storyboarding, pre and post production, graphics and video editing.

As the SMVP I was able to raise the conversion rate of video content from 14% when I started at the company to 28% at the end of my tenure equaling over 2.5 million dollars a year in additional income.
​
The below are some examples of the work I accomplished at the Motley Fool and a brief description of each.
USA Today Motley Fool Advertisement
The below video advertisement was placed on the home page of USA Today as a video pop-up when someone landed on the homepage. The ad was displayed for 6 weeks in an effort to boost member acquisition during our year end quarter that ended April of 2016.

The concept of the video was to be quick, simple, easy to understand and to have some sort of eye catching element - in this case I chose to have a piggy bank smashed with a sledge hammer by one of the companies founders.

I shot this video with 3 Sony EX3 cameras - one set to slo-motion capture and the others recording in real-time. All footage was edited with Adobe CC Premiere with graphics being created in After Effects, Photoshop and Illustrator.
Timmerman and Walsh Testimonials
Video testimonials from satisfied customers is one of the beat ways to display your company's value in the market place and is a great social awareness vehicle by which people can "identify" with someone who is just like them.

The below two videos were part of a 5 part series, whereby my goal was to find a variety of customers who exemplify the variety of potential customers the Fool was trying to reach and convert.

The first is a middle aged couple the Timmerman's, while the second is a retiree Leslie Walsh. Both videos we shot on site in Minnesota and Colorado respectively.

All videos were shot with Canon C-300 cameras, edited with Adobe CC Premiere with graphics created in Adobe After Effects.
30 Second YouTube Promo for TV Video
Advetorials was one of the best conversion vehicles for the Motley Fool, however they never had a video advertorial. The below was the first in a series of 10 video advertorials placed on YouTube to help drive membership conversion and was based on the highest converting long from video of the time.

Shot with s Sony EX3, edited on Adobe CC Premiere with graphics creation in Adobe After Effects.

Best Buy Now - Monthly Stock Pick
Each month one of the founder's of the Motley Fool (David Gardner) presented a stock to viewer's from his monthly stock report. These videos were one of the most anticipated videos each month for new investors as it revealed one of his picks without having a membership... of course this was done on purpose from a marketing perspective - the ultimate goal was to show the quality of stock picks and research behind the picks to convert a non-member to a member.

Each month I wrote the script, researched the stocks in collaboration with David, shot and edited the series which was recorded live to tape and then graphics added in post production.

Shot with 3 Sony EX3 cameras and switched live. Post-production and video editing was conducted using Adobe Premiere Pro CC and After Effects.

Long Form Sales Videos
At the Motley Fool long form videos were placed behind static or video advertorials to help solidify a sale with a non-member. The idea was to hook someone with an ad and then seal the deal over the course of a long form video discussing the topic from the advertorial.

The below videos are examples of long form videos I created while at the Fool. This style of video which I dubbed "GFX videos" where a big departure from the PowerPoint style slide videos with voice over that the Fool was using prior to my arrival. The GFX versions I introduced out performed the "vanilla slide" versions by over 14 points or 14% to 28% respectively garnering the company over 2.5 million dollars a year in additional revenue.

The below videos were shot with Sony EX3 cameras on white screen then keyed in post for graphics. Edited in Adobe CC Premiere with all graphics created in After Effects, Photoshop and Illustrator.
Tier Zero Webinar Style Video
The below video is an example of a webinar style video. These types of videos were meant to be quick turnaround videos requiring little post-production that could go from production to online within a matter of days instead of the 3 weeks a GFX style video like above could take.

Shot with Sony EX3, edited with Adobe CC Premiere with graphics created in PowerPoint, Adobe After Effect, Photoshop and illustrator.

Motley Fool One Welcome Video
The below video was created as a welcome message which was delivered to folks once they signed up with the Motley Fool One program. The goal of this video was to demonstrate that WE, the Motley Fool, was with them every step of the way on their journey to financial freedom.

Shot with a Canon C-300 and edited with Adobe CC Premiere; graphics created with Adobe After Effects, Photoshop and Illustrator.

---
The International Monetary Fund
Central Operations Producer
Responsibilities:

Planned, directed, coordinated, and managed operational activities across multiple work groups for the effective delivery of IMF webcasts. Ensured the delivery of exceptional broadcast and webcast presentation technology services to a sophisticated clientele in a fast-paced, rapidly changing international business environment, with emphasis on client and consumer satisfaction. The scope of webcast operations consisted of the professional application, maintenance, and recommendations for all webcast: processes, equipment, and technologies including, but not limited to, simultaneous interpretation systems; multi-format video acquisition; sound reinforcement; audio and video recording/playback; AV routing/switching systems; webcasting/encoding media files; video editing and post-production and live and pre-recorded broadcast quality video production for in-house and special events.

​The below are some examples of the work I accomplished at the IMF and a brief description of each. As you will note 90% of my work at the IMF was shooting, managing, live broadcasting and directing real-time/ live events and presentations both in studio and on-location.
COM Bi-Weekly Press Briefing
Every other week the IMF Communications Department hosts a Press Conference out of the IMF studio which includes approximately 12 reporters and is webcast live and distributed directly to broadcast stations via the AVOC (Verizon broadcast distribution circuit).

Additionally the broadcast is streamed in both English and Spanish with simultaneous interpretation.

As the producer I am responsible for working with the client to determine specific event requirements, manage the recording and live webcast of the event and editing the VOD file to post online.

Shot with Sony EX3 cameras and VOD file is edited with Final Cut Pro.
Ask Me Anything
In 2013 the International Monetary Fund conducted a Fund wide staff survey. Based on the survey results employee engagement was identified as one of the needed areas for improvement.

Ask Me Anything is a live webcast which is produced to answer questions from staff and features upper management subject matter experts to field emailed questions.

Below is an example of one of the episodes, the 2nd in a series of 5 which won the IMF TGS Innovation Award on 2/6/14.

Shot live with Sony EX3 Cameras with the VOD file edited on Adobe Premiere CS5.5.
Fourteenth Jacques Polak Annual Conference 2013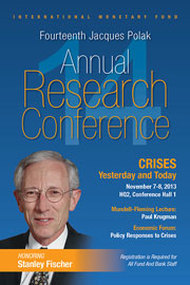 The International Monetary Fund hosted the Fourteenth Jacques Polak Annual Conference at its headquarters in Washington DC on November 7th and 8th, 2013.

This conference was a 2 day event with many notable presenters from the economic and policy world.

Select sessions of the conference were webcast live externally, streamed on iOS and sent to broadcasters around the world via the Verizon AVOC circuit with C-Span broadcasting live.

Shot with BRZ 700 cameras and edited with Final Cut Pro.

---
2013 Annual Meetings Plenary - MD Presentation
The below video is the Managing Directors presentation during the 2013 Annual Meetings Plenary.

Shot with Sony HD cameras and edited with Final Cut Pro for use on the IMF website.
HARDtalk - 2013 Spring Meetings
The below video aired on the HARDtalk website and was webcast live on imf.org and the Spring Meetings official website.

Shot with Sonny BRZ 700 cameras and edited with Final Cut Pro 7.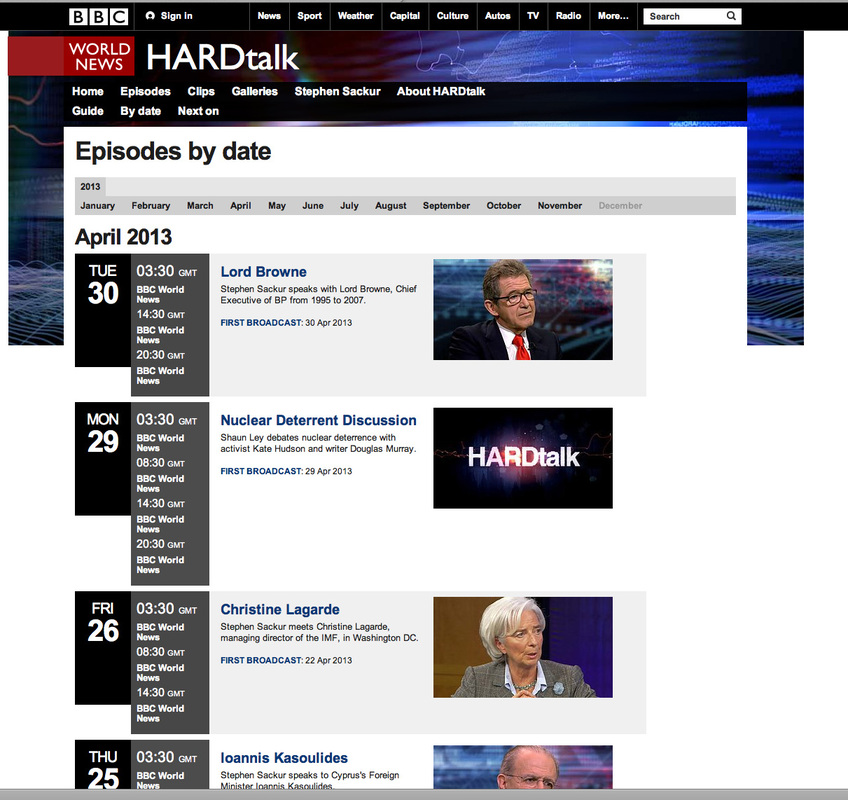 ---
Medco Health Solutions
Manager of Creative Services
Responsibilities:

Responsible for the development, planning and execution of video initiatives and programs which help support and build the Medco brand to B2B and B2C audiences by supporting the communication and marketing needs of the corporation, customer groups and product groups across Medco and it subsidiaries. Play a lead role in the production, editing and creation of video graphics and video animation for multiple video content types including live broadcasts via the Medco Broadcast Center as well as web events and highly polished programming for use on Medco.com, client websites, and other corporate website properties.

The below video is a collection of videos and graphics I worked on for Medco Health Solutions and includes examples of my editing, shooting, producing and script writing work in addition to my video graphics and animation work.

All samples were edited with Avid Media Composer 5, After Effects CS4 or CS5.5 and Lightwave V9. All footage was shot with an HPX300.
Best Use of Benefits Video for Medco.com
The below video was created for medco.com to introduce new members to the benefits of Medco and medco.com. This is the first in a planned series of 7 videos. I produced this video from concept to completion including producing, script writing, shooting, editing, animations and graphics.

Below is the completed project as well as the green screen version to demonstrate the "before" and "after".

Shot completely on green screen, all elements of this video were created from scratch using Adobe After Effects, Lightwave V9, Adobe PhotoShop and Illustrator.

I shot this video with the HPX 300 and edited with Avid Media Composer 5.5.


Optimal Health by Medco

The below video was created to introduce Medco employees to a new website and service offered by Medco to employees.

This was part of a large online campaign sent to over 25,000 employees in 3 different countries. I managed all online video distribution, was the lead editor, producer and graphic artist on the project.

I shot this video with the HPX 300, edited with Avid Media Composer 5, After Effects CS4 and Lightwave V9.
On Call with Dr. Rob
On Call with Dr. Rob brings you the latest advances in science, medicine, health, and technology. From interviews with leaders in healthcare to clinical discoveries and drug innovations, every episode has news you need-in minutes.

A six time Telly award winning program, On Call with Dr. Rob is a bi-monthly program fully produced and distributed by the Medco Broadcast Center team delivered to Medco clients via email and featured on the On Call website.

As the lead graphic designer, online video distribution manager, editor and contributing producer I created all the graphics used in the show including the custom open, lower thirds and on screen graphics, edited and produced multiple show segments and developed the online video strategy and distribution for the show including the design of the website and analytics collection and reporting.

During shoots I served as the lead/ managing technician responsible for lighting, audio and camera operation.

Created using: After Effects CS5, Lightwave 3D v9, Avid Media Composer 5.2. Shot with the Panasonicc HPX 300 on a custom designed light panel using 3 Arri light kits.

View the last three episodes of the On Call show below.
Biomarkers could spot Alzheimer's disease earlier
Alzheimer's disease affects more than 5 million people in the United States. Recently proposed guidelines to advance earlier diagnosis of Alzheimer's may further expand the patient population. Drug companies are now focusing on developing compounds that address the cause rather than the symptoms of Alzheimer's, with the hope that these drugs will help treat patients earlier.
Biosimilars - What will you need to know?
Join Dr. Rob, Dr. Janet Woodcock of the FDA, and other Medco thought leaders as they explore the latest news on biosimilars and reveal what payors need to know to begin incorporating a solution into their plan design.
Game changing therapies on the horizon, will you be ready?
In 2011, pills may be alternatives over infusions, and drugs with unique mechanisms of action are improving outcomes for patients with rheumatoid arthritis. Learn how advances in hepatitis C therapy can offer a 90% cure rate and how a new specialty drug for lupus is creating a lot of buzz throughout the industry.
Executive Roadshow Video Opener 2010
This video was created to open the CEO's 2011 annual roadshow presentation that he presents to all Medco locations around the country. The intent of the video was to summarize what happened within Medco in 2010. This creative approach was a drastic change from previous years and was received very well by the entire executive staff and all employees. I worked with the CEO, the SVP of Marketing, the VP of PR and the Director of the studio on an on-going basis to create a final product which was new, interesting and would get the audience of employees excited for the speech by the CEO.

I created this video using After Effects CS4, Avid Media Composer 5 and Lightwave version 9. I shot the executives show on screen with the HPX300. All CG and animations were created by me over the course of a three week period.
CDH Video Introduction to Medco Benefits
The below video was created to educate new CDH members (Consumer Directed Healthcare) to the benefits of Medco. The challenge here was to take very dry and information dense information and make it interesting.

I was the producer, editor, graphics creator and animation creator for this project working with the client from concept to final distribution including concept creation, script writing, directing the shoot and working the camera to editing and graphics creation and finally video distribution to over 10 client websites.

The ultimate goal of this project was to place this video directly on client websites which I developed a workflow for and created a technical distribution solution for guiding clients in the development of their websites to host the video content.

8 Versions of this video were created to cover the differing plan designs of specific clients.

Created using Avid Media Composer 5, After Effects CS5 and Lightwave version 9. Shot with an HPX 300.
American Heart Month Video
In horror of American Heart Month the following video was created for Medco.com to alert people of the need to take medications as prescribed and the risks of not.

I shot this video with an HPX 300 edited with Avid Media Composer 5.5 and created graphics and animations with After Effects CS4.


Medco Health Store DUR Promo
The following video was created to promote a new program for Medco called the Medco Health Store.

I was the editor, graphic designer and animator on this completely graphical video created using After Effects CS4, Lightwave V9 and Avid Media Composer 5.5. Voice over was record with ProTools.
Healthcare 2020 - Fast-forward To The Future
Below is a promo video which I created for the purpose of increasing attendance at the 2011 Drug Trend Symposium held by medico each year for clients and prospects. The tag line is, "Don't miss out! Now's the time to register for the 2011 Drug Trend Symposium."

I created this video using Avid Media Composer 5.5, After Effects CS4 and the voice over was recorded with ProTools.
---
Old Demo Reel
The below is an old demo reel that I thought would be fun to show...
---
Demo Reel from 2008 Based on My Work at ACORD
Below is the demo reel I put together in 2007 based on the work I created at ACORD. Please disregard the phone number which appears in the video as it is no longer viable, to contact me please call 571-512-2960.

I was the Multi Media Producer for ACORD responsible for the creation of video content from concept to completion including script writing, producing, shooting, editing and online video distribution.

All editing was completed in Avid Express Pro, graphics in After Effects 7, PhotoShop and Illustrator.